CeBIT 2014 to feature Datability as lead theme
The lead theme for the next staging of CeBIT – the world's No. 1 tradeshow for the digital world – has been announced: Datability – a term coined to denote Big Data in conjunction with the required sustainability and responsibility with regard to its use.
"Datability at CeBIT is all about the ability to use large volumes of data sustainably and responsibly," Oliver Frese, the Deutsche Messe Managing Board member in charge of CeBIT, said Wednesday in Hannover. "It's about businesses intelligently analyzing existing data to leverage new opportunities in the form of process optimization and resource efficiency. And it's about delivering benefits to ordinary people, whether they're patients in the healthcare sector, passengers in the air and road transport sectors, or customers engaged in online shopping."


The Datability theme enjoys the backing of CeBIT's exhibitors, for whom intelligent data analysis and strong data security together constitute one of the most important digital-industry trends. "For CeBIT, Datability is a case of the right theme at the right time," remarked Dr. Dieter Kempf, President of the German Federal Association for Information Technology, Telecommunications and New Media (BITKOM). "The ongoing digitization of our world is giving rise to enormous volumes of data, and at the same time to a duty to use and protect this data responsibly and appropriately." IT security plays a key role in this. Kempf: "The analysis of large volumes of data is not purely a technical issue; it is also an important social and political issue. We intend to illuminate and discuss these aspects from every angle at CeBIT."


For Frese, the current high-profile international media coverage on the security aspects of data use is further proof of an urgent need for discussion. "The competent and secure management of large volumes of data is integral to a properly functioning global market economy," he said. "CeBIT is the only platform where business, government and science can come together for international dialogue on these important issues."


Frese announced that Datability themes would feature in the various display areas of CeBIT 2014 and in the show's extensive conference program. "The lead theme will be the common denominator underlying all areas of the show. Many exhibitors will structure their presentations around it. Datability will also be high on the agenda at our high-quality forums and of course in the presentations given at the CeBIT Global Conferences."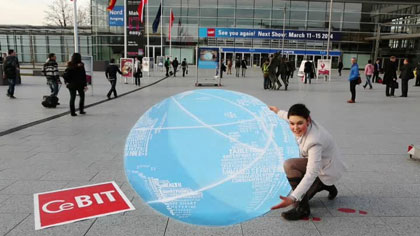 In developing and selecting Datability as the lead theme for CeBIT 2014, Deutsche Messe gave careful consideration to forecasts by international research institutes, expert opinions, and views expressed by leading international IT companies from the CeBIT show's core of regular exhibitors. "The views expressed were unanimous. The business and scientific communities see Datability as offering enormous potential," Oliver Frese said, noting that the opportunities were not confined to big international corporations. "Thanks to increasingly flexible and tailored solutions, small and medium businesses, too, can benefit from Datability and achieve significant international competitive advantages. The lead theme of Datability captures the needs and mood of ICT industry perfectly."


While most businesses are aware of the growing importance of today's vast and rapidly expanding stores of data and the immense opportunities inherent in them, many lack the expertise needed to analyze and effectively harness them. This is where the upcoming CeBIT can help – by providing quality, up-to-date information and ample scope for high-level international dialogue. The exhibitors at CeBIT 2014 will present a diverse array of IT solutions – many of them already fully developed and available for implementation – which will promote enhanced effectiveness across a whole range of business areas, including customer relations, product development and marketing to name but a few.


"With Datability as its lead theme and motto, CeBIT will serve as the digital industry's central hub for presenting, discussing and exploring the many and varied options and opportunities for the intelligent use of big data. A visit to CeBIT 2014 will therefore be an absolute must for all business leaders and IT managers seeking to build and maintain the international competitiveness of their organizations," said Frese.